Locally owned and operated on California's wonderful Central Coast
At Miracle Embroidery you can expect nothing less than high quality work from our experienced team of embroidery professionals. We've provided embroidered apparel for a variety of customers for more than 20 years, from local city and county agencies, to businesses, schools, sport teams, wineries, restaurants, service industries, and so many more.
PRODUCTS
Browse our selection of products, including corporate branded merchandise, as well as school & sports team apparel.
CATALOGS
Browse our catalogs right here on our website or stop by our store to take a catalog to review with your team or company.
CONTACT US
We can offer professional advice and quick service for all of your embroidery needs. Contact us to see how our team can help.
BRANDED MERCHANDISE
We offer a multitude of products that can be customized for your business, school, team, or event. Anything from polo shirts, dress shirts, outerwear, caps, bags, aprons, towels, and so much more! To get an idea of the endless possibilities you can design, browse our catalogs!
Pricing is a combination of quantity, number of stitches, artwork, and the complexity of your design.
We specialize in letterman jackets
Miracle Embroidery is the largest provider of quality letterman jackets for many local high schools for over 20 years. Our letterman jackets exceed industry standards and are made with 100% virgin wool body, top grain leather sleeves and a quilt lining to keep warm at those late night sporting events! Our friendly employees will work directly with your high school student to help them choose the jacket of their dreams! We have multiple styles of lettering to chose from, and hundreds of pre-programed designs to personalize each jacket. Patches provided by the school such as scholar athelete and CIF champion, can be arranged in various locations on the jacket, including the front, back, pockets, and sleeves.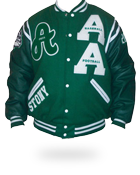 We currently stock jackets for the following central coast high schools:
Morro Bay
Atascadero
Mission Prep
Paso Robles
San Luis Obispo
Coast Union
Coast Christian
Templeton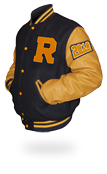 The Letterman Package
This special package include the jacket, embroidering of your students last name across the back and first name on the front, sewing the student's varsity letter on the front with the sports emblems and sewing the graduation year on the sleeve. This complete package starts at $325.00 USD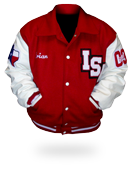 Letterman Gift Package
A great way to surprise your student! Miracle Embroidery will provide a letterman jacket gift certificate for your student to receive on their special day. Then they can come in and work with a Miracle Embroidery team member to be professionally fitted and customize their jacket to their exact desires. Please note: sewing patches other than the varsity letter on the jacket is not included in the package price.
CATALOGS
Below are catalogs you can click to preview a variety of merchandise. When you find what you want, copy the product information and submit it with your order…it's that simple. Catalogs are also available in our store for you to take and share with your counterparts.
Contact Us
We offer professional advice and quick service for all of your embroidery needs. Contact us to see how our team can help.
Open Monday – Friday from 9 am to 3 pm
2226 Beebee St, San Luis Obispo, CA 93401
(805) 543-7243